The following information will assist managers that need to register ECNL, ECRL and ECRL-NTX teams. Both Boys and Girls.
Manager Check List - Coming Soon

ECNL Registration - Coming Soon

ECRL Registration - Coming Soon

ECRL-NTX Registration- Coming Soon
The following information will assist managers that need to register teams participating in USYS Leagues. Both Boys and Girls.
Managers Check List - Coming Soon
USYS Fact Sheet - Use your personal Gotsport log-in, there is no team log-in.
The following information will assist managers that need to register teams participating in US Club Leagues. Both Boys and Girls.
Managers Check List - Coming Soon
The Dallas Texans is a Nike Premier Soccer Club, and every two years a new cycle of Nike Kits are developed and released. All competitive teams, ages U11-U19, will be required to purchase the new uniform kit, unless there is a delay in ordering that Nike has informed the club about.
The new Nike Kits must be worn for the following two years or until Nike releases future kits, in both their respective Soccer Association League and Tournaments/Events. The one policy exclusion is that teams entering the U18/19 age group in a uniform-purchasing year will NOT be required to purchase the new kit. They will be allowed to finish their senior year in their previous year's kit, but the teams may purchase a new kit at their own discretion.
Game Uniform Procedures:
Primary Uniform - Red Jersey, Shorts & Socks
Secondary Uniform - White Jersey, Black Shorts, White Socks

These are the only two permitted uniforms combinations.*

Primary Kit Color is Always Red - only wear secondary uniform when required. 
League Play - follow your respective leagues polices. 
Tournaments - always wear Red, follow tournament protocols otherwise
Cold Weather Gear / Slider - must match uniform.
Dallas Texans Warm-Ups - must be worn for cold weather games.
Training Gear Procedures:
Nike Training Gear - Grey Training Shirt, Black Training Shorts, Black Training Socks.
The Dallas Texans training gear will be decided every two years by the Club, Nike, and our retail partner. This will be concurrent with the new kit cycle. 
Cold Weather - players may wear the practice sweatshirt and sweatpants.
The Soccer Corner
The Soccer Corner is the exclusive apparel supplier of the Dallas Texans Soccer Club. Please visit their website for more information about Dallas Texans apparel.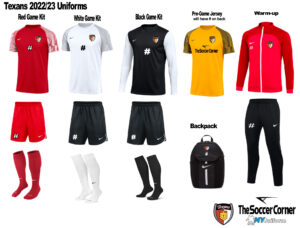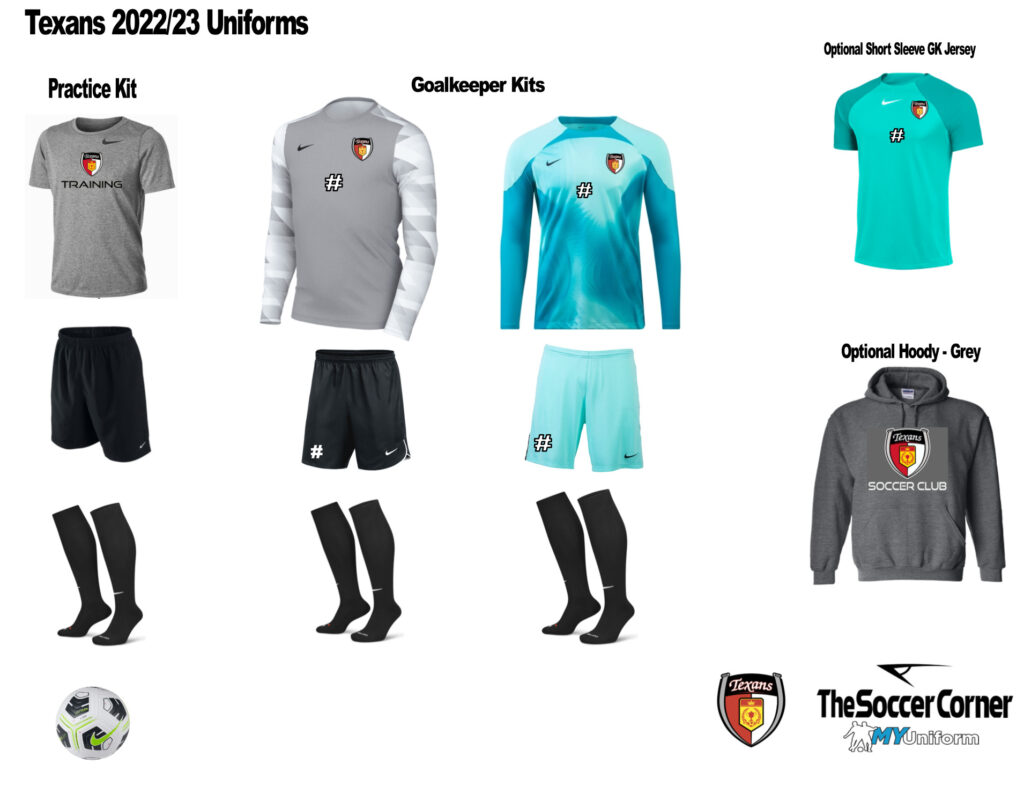 The following are the policies for all Dallas Texans Facilities, this includes practice and game days:
No Smoking
No Dogs Allowed
No Golf or any Other Sports
No Climbing on Goals, Nets, or Fences
No Jumping Over Fences
No Weekend Practices Unless Permitted by the Club
No Playing on "Closed" Fields
No One on the Fields but Coaches and Players
Use Areas Between the Fields for Fitness Drills
Pre-Game Running Must be Off the Game Field
No Drills Inside the 18 Yard Box
Park Only in Designated Parking Areas
Enter and Exit by Front Gates
Pick-Up ALL Trash after Practice and Games
Pick-Up Lost Items at the Next Practice
The Dallas Texans Travel Policies are in place to first and foremost protect the players & families, coaching staff, and ultimately the Club. While traveling with a Dallas Texans team, all players are to adhere to the clubs Travel Guidelines provided during the parent meeting. The Club travels in a professional manor, and we expect all parties involved to hold the standards of the club. Below is the Dallas Texans Travel Policy.
All players and their parents or guardians agree to the following policies for Club travel:
No player will consume or possess alcoholic beverages or tobacco products.
No player will possess or be under the influence of any drug, narcotic, or controlled substance that has not been legally prescribed to that player by a medical professional.
Players will obey team curfews set by the coach.
Tournaments that consist of both male and female teams, casual association during free time will be allowed in public areas only; absolutely no player will enter the room of any player of the opposite sex.
Players' get-togethers will take place only in approved hotel areas. Approved areas are game rooms, pool areas, exercise rooms, lobbies and restaurants. Joy riding in elevators and roaming the hallways is not acceptable. Running and playing soccer in the hotel areas is prohibited.
A player whose parents are not on the trip or at the hotel, must have an adult present on the trip to report to; the player must keep this adult informed of their whereabouts at all times.
Prior to the trip, parents not traveling (or not staying in the hotel with the players) are responsible for making arrangements with one of the other adults to chaperone their child. However, all parents and players acknowledge that the ultimate responsibility for the conduct of each player lays with the player and his/her family. Further, it is understood that violation of the Travel Policy rules of conduct will result in discipline by the player's coach or the Club.
Each parent, guardian and player waives all rights to make any claim for injury or other loss against the Dallas Texans Soccer Club or another parent, player, coach, guardian, or any agent of the club who drives, supervises or chaperones players during a club trip, tournament or other organized club event, unless the injury or loss is the result of that person's or entity's gross negligence or intentional misconduct.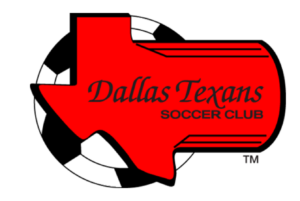 The Dallas Texans logo may only be used for written communication, e-mail, letters, and flyers. Any other use must be communicated to the club and approved by the club before use. 
The Texans Shield can only be used for Apparel. (Uniforms, Training Gear, and Equipment, etc.)
Information Collection and Use:
We respect each site visitor's right to personal privacy. To that end, we do not collect or use information through our website except as disclosed in this Privacy Policy. Our web server does not automatically recognize any information regarding the domain or e-mail address of any visitor to our website. The only information we collect is from forms sent to us so that we can respond to questions or requests regarding our soccer club.
This information is never shared with other organizations. Users will never be requested for updated information from any other email address or from any other domain than dallastexans.com.Users should never send credit card information in the text of an email for security purposes. Faxing or scanning and emailing forms is acceptable. If you feel that this site is not following its stated information policy, please contact us at our mail or email address.
Notification of Changes:
If we decide to change our privacy policy, we will post those changes to this privacy page.
Dallas Texans Fundraising Policies
Dallas Texans Logo - Our logo can only be used with the written permission of the club.
Product Sales - All Dallas Texans spirit wear / product sales will be through the club website.
Approved Team Fundraising Activities – All fundraising activities must be on the approved activities list. If a team wishes to do a fundraising activity that is not listed on the "Approved Team Fundraising Activities List", the manager must get written approval by the club.
Raffles – Raffles are not permitted by any teams.
Use of Fundraising Funds – Must be used to pay soccer related expenses such as Club Dues, soccer uniforms and equipment, tournament costs and travel, etc. Payments made to any individual must be documented with receipts that support the payment is for the soccer related expense. Please submit the receipt to the manager for reimbursement.
Approved Team Fundraising Activities
American Airlines Center Concessions Parent Volunteering - Contact Coordinator Sue Mathews
Car Wash - Garage Sale
Sonic Carhop - Bake Sales - Restaurant Cards
These are opportunities for families to earn money for dues, uniforms, tournaments, traveling expenses, and other soccer related expenses.
If you have other team fundraising activities you would like to do, please email your request to Donna Brill at djbrill7@aol.com.